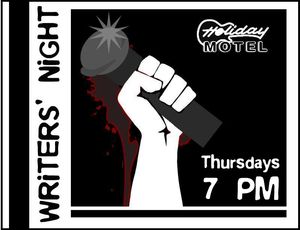 ***Resumed Jan 5, 2023***
WRiTERS' NiGHT is an open mic for songwriters, poets, comedians, and more held the every Thursday. Come share your original work in this fun open forum at theTambourine Lounge next to The Holiday every Thursday evening at 7PM, rain or shine. Don't feel like sharing? Come for the entertainment! Request more information about WRiTERS' NiGHT or just come experience what we're all about!  It's free, all-ages and all are welcome and encouraged to attend!
No sign-up is necessary to participate in or attend WRiTERS' NiGHT.  Just show up at the Holiday Music Motel's Tambourine Lounge on Thursday nights at 7!
(we do not sell or serve refreshments so please byo responsible beverage)