This event pairs songwriters with works of visual art to use as their inspiration and muse. The end result is a gallery show in tandem with live performances of the works created...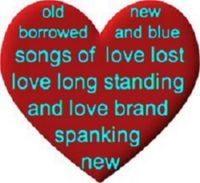 Examining the language used in other art forms helps us to expand the language which we use within our own. The Love On Holiday collaboration between musicians and visual artists reaches to do just that.
While many parallels can be drawn between the two art forms, there are obvious undeniable differences. Music has a broad palette to work from through words and sounds and even through medium and distribution; there is more of an immediacy to its access, translation and understanding, while visual art--outside from the obvious--sits still and quiet, telepathically transmitting purpose, history, emotion, intentions. The visual artist is speaking to us through what we are viewing but all too often we cannot understand. It is that quiet, nagging, often unsettling wonderment that changes our own thinking and perception, that alters our synapses and thought processes and remains with us long after we leave the space of a work that moved us.
It is emotion manifested in the visual.
Perhaps this is how the visual artists "sing."
Visual artists generously loan their work for this annual songwriting collaborative and bravely allow their works to be mined and explored for inspiration, story and meaning; to have it interpreted and translated through the immediacy of the art of songcraft performed before the public within days, if not hours, of being written.
Unavoidably influenced by the songwriters' own history and experiences, the collaboration between these two worlds yield music of a depth and power that only this unique cross-collaboration can inspire.
music cds and downloads here: